The PHILIPP Online Shop (eBay)
Discover unbeatable deals and high-quality products!
We offer you a wide range of first-class PHILIPP products at unbeatable prices. From wire rope clips and gloves to round slings, eyebolts and fire brigade snap hooks - you'll find everything you need here!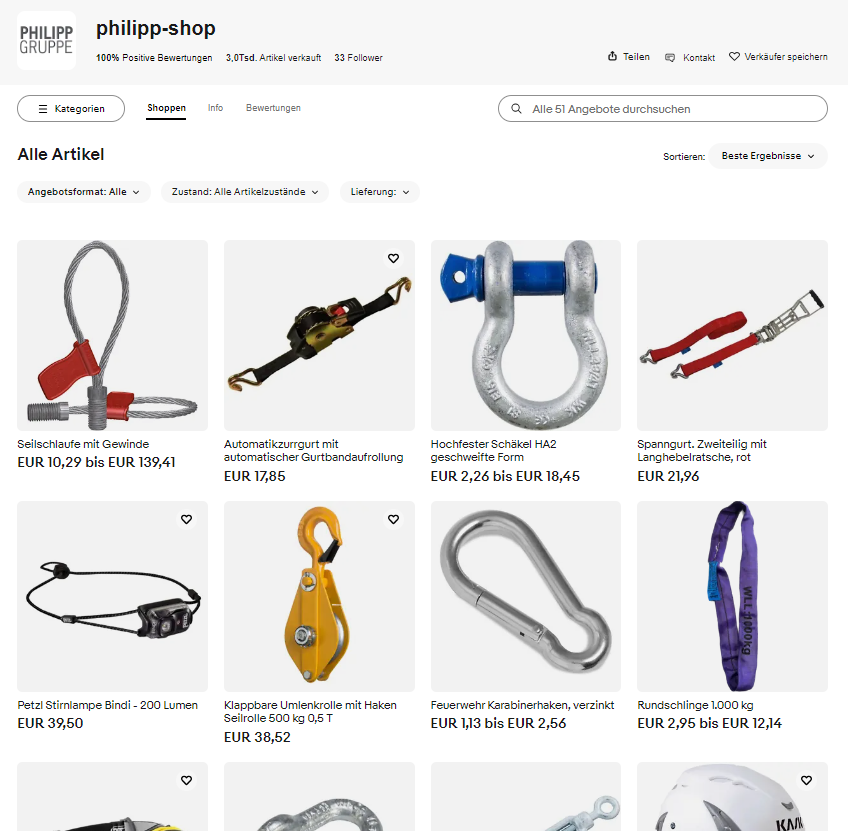 In our diverse product range, you'll discover a wide selection of wire rope clamps in various sizes and designs, allowing you to securely fasten wire ropes with ease.
To ensure optimal protection for your hands, we provide high-quality gloves renowned for their exceptional comfort and long-lasting durability. When it comes to lifting and transporting heavy loads, our round slings are the ultimate solution. Designed to be rugged and resilient, they offer a safe and dependable option for a multitude of applications.
Furthermore, our range includes essential eyebolts that are indispensable for securing and connecting loads seamlessly. For professional fire brigade operations or outdoor endeavors, our top-of-the-line fire brigade snap hooks are the perfect choice. Engineered with utmost precision, they guarantee a reliable connection and possess exceptional durability, allowing them to thrive even under the most demanding conditions.
At every turn, we strive to offer products of unparalleled quality and performance, ensuring that your safety and functional needs are met with utmost satisfaction.
Order your PHILIPP products now conveniently and easily in our online shop on eBay. Benefit from our unbeatable offers and our fast shipping. Click here to go to our shop and experience the quality of PHILIPP products for yourself.
Note: The availability of PHILIPP products may vary. Visit our online shop on eBay to view the current offers.