CARRYING BIGGER LOADS WITH SMALLER SOLUTIONS
SHEAR FORCE DOWELS FOR ALL APPLICATIONS
The planned transfer of shear forces between reinforced concrete components can be as simple as this. Simple combinations of one mandrel part and one sleeve part cover a wide range of applications and form and form highly load-bearing, restraint-free and freely movable structures. The ease of installation rounds off the systems. All in all, the shear force dowel systems meet the highest requirements in terms of economy in terms of economy, quality and safety.
Thrust dowels (ESD system)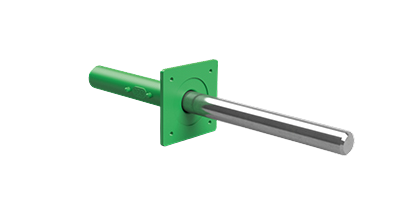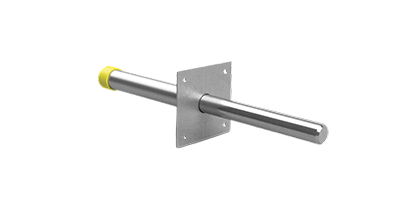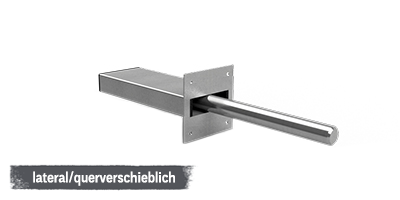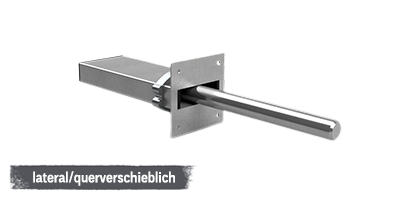 | | |
| --- | --- |
| Sleeve | ESD-Q E VR |
| Dowel | ESD-N |
In principle, shear force dowel systems are distinguished between​
1. simple push dowels (ESD system) and
2. heavy-duty dowels (DB system).
Depending on the application, longitudinally displaceable (N) or longitudinally and transversely displaceable (Q) sleeves are available. are available. Irrespective of the type used, these are approved for use (ETA-23/0180) and can be and can be protected against fire (REI 120) by means of fire protection sleeves.
The "simplest" combinations are the systems that can only be moved in the longitudinal direction (N), i.e. perpendicular to the joint. This allows joint widths of up to 60 / 120 mm (ESD / DB) to be bridged. The product range includes eight dowel diameters each, available in various lengths and materials. The sleeves are made of either stainless steel or high-quality plastic.
A special connection for the transmission of transverse forces is the NURSID dowel. This dowel, half of which is made of round steel and the other half of a hexagonal profile, connects e.g. precast balcony slabs, pergolas or similar with the possibility of compensating for installation tolerances in height of up to 11 mm by means of the eccentrically arranged hexagonal mandrel. The NURSID dowel, which can be combined almost arbitrarily with the ESD or DB system, is always longitudinally and transversely displaceable and bridges joints up to a width of 30 mm.
Heavy duty dowels (DB System)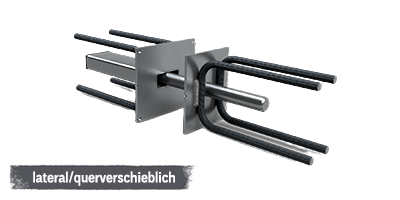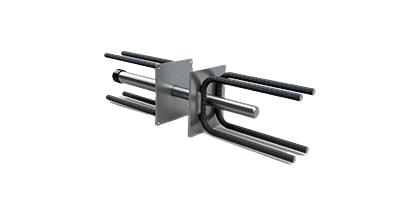 If displacements are to be made possible both vertically (N) and in the joint direction (Q), so-called rectangular sleeves are available. Here, displacements of up to ±12 mm are possible, e.g. to avoid constraining forces from the structural condition. The attached reinforcing ribs (VR, only for ESD) additionally ensure increased force transmission of the rectangular sleeve in the concrete.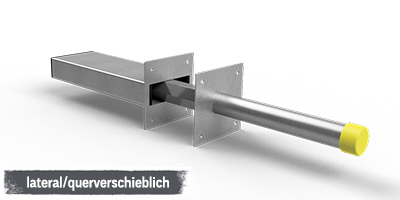 | | |
| --- | --- |
| Sleeve | ESD-E |
| Dowel | NURSID |
| Sleeve | ESD-NE |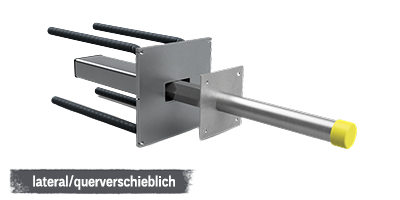 | | |
| --- | --- |
| Sleeve | DB-Q |
| Dowel | NURSID |
| Sleeve | ESD-NE |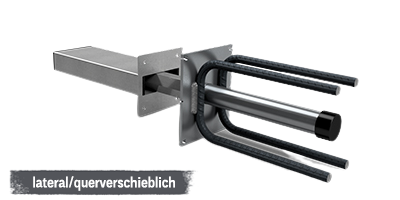 | | |
| --- | --- |
| Sleeve | ESD-Q |
| Dowel | NURSID |
| Sleeve | DB-N |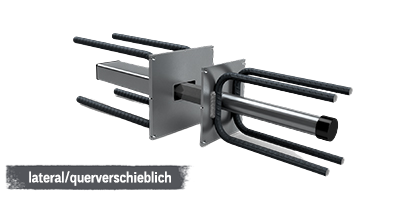 | | |
| --- | --- |
| Sleeve | DB-Q |
| Dowel | NURSID |
| Sleeve | DB-N |
Two approved systems:

Heavy duty dowel DB ø20 - ø40mm
Simple shear dowel ESD ø16 - ø35mm

Transmission of only static shear forces
Different dowel materials available
Longitudinal and transverse displacement sleeves available in stainless steel or plastic (ESD only)
Transverse displacement of up to ±12 mm possible
Max. Joint width of 60 mm (ESD) or 120 mm (DB) can be bridged
Fire protection collar for REI 120 fire resistance class
Special NURSID dowel for the transmission of transverse forces with simultaneous height tolerance compensation of up to 11 mm
Wide range of applications combined with easy installation
Convincing product properties - the technical and commercial comparison is worthwhile!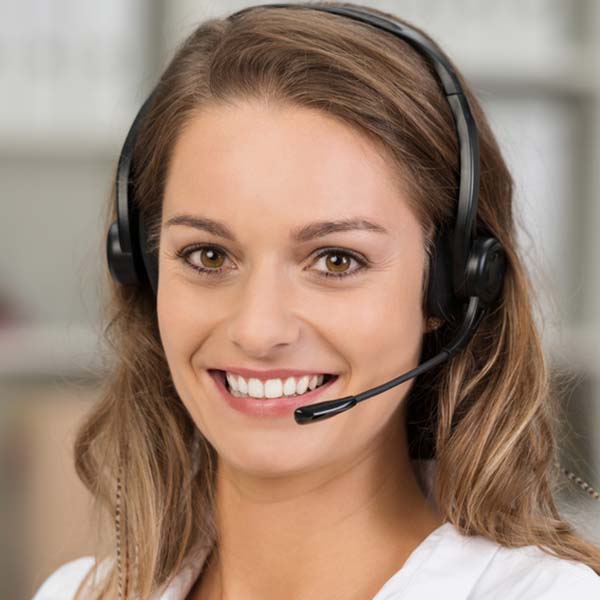 Have we aroused your interest? Contact us for further information!
Phone +49 (0) 6021 / 40 27-312
WhatsApp +49 (0) 171 / 400 62 06
Fax +49 (0) 6021 / 40 27-440
tum@philipp-gruppe.de
Contact form